Mark Padilla started in the pawn business in 1981 and later got into the music business opening Don Lesmen Music & Broadway Recording studio in 1985. Mark became an award winning audio engineer, producer and songwriter. Mark eventually renamed Don Lesmen music to Lesmen's music and started selling more audio and lighting gear and doing sound reinforcement, video production, back line, printing and a full service repair department. Mark has produced several TV shows like "The After After Party" with Steven Michael Quezada, Nuevowood that was on Fox, CW, KOB. Mark is also a promoter for comedy concerts, musical concerts with several major artists. Mark got involved in video editing and music scoring for movies and corporate events. Mark was executive producer of the feature movie called "Homeless" which he was the music supervisor and sound engineer and wrote a lot of the songs in the movie.
Mark owns Lesmen's Pro Audio & Broadway Production studio (Now Moonlight Recording Studio) since 1985 , Mark also owns NM Chili Just add Water selling Red and Green chill products.
Mark has played, engineered and did graphic design on lots CD projects nationally and locally.
Mark was born and raised in Albuquerque and is very connected in the New Mexico Music, Recording & Film and does several sponsored community events. Marks last Guitar For Kids event donated 30 guitars and accessories the the youth.
Mark and his wife Polly were inducted into the New Mexico Music Hall Of Fame 2019. Mark now serves as President for the New Mexico Music Hall of Fame.
Mark, please tell us about your new CD, 'Songs from the Heart'.
Each song has a personal meaning to me. Playing music is a way for me to express myself.
What inspired you to do this CD?
I was inspired to put a CD together because I had acquired all these completed songs that I wanted to share with family and friends.
Tell us about the songs, songwriters, musicians you collaborated with for this CD.
Like I mentioned earlier, each song has a special meaning to me. Some are based on life events. I compose my own music, I can play all instruments. I am not a lyricist, but I do know what I want the song to be about. Some of the artist I collaborated with are brilliant song writers. Kevin Pollock wrote and sang the song for "A.R.T. Blues" and Dylan Huling wrote and rapped on the CD. Kevin Pollock also wrote "Theo's Lullaby" and he originally sang the song. I met him at my store, Lesmen's Music and chatted with him about the song. I told him my daughter was pregnant with her 1st baby who had a heart defect, called hypoplastic left heart syndrome. He wrote the most beautiful heartfelt lyrics. I wanted a female singer to sing the song because the lyrics reflected a mothers thoughts. Some time later I met Delphia. I heard her play live and was impressed with her talent. We formed a friendship and she ultimately sang Theo's Lullaby. She also sang two more songs on my CD. Vicente Griego wrote "Cancion Para Los Padres". He listened to my song and agreed to put lyrics together. We were both caring for our fathers. Coincidentally our dads we're ill at the same time. And passed away a few months apart. Vicente and I formed a bond. He is very talented, kind man. I have a story about each artist that is on my CD but I would have to write a book to tell the story.
Did you record any original songs on this CD?
Fourteen songs are originals on my CD. The four that are not originals I recomposed the instruments and feel blessed and humbled that the artist friends I have did an excellent job to help me complete this project. The four songs that are redos are "Mary did you know", "Sabor a Mi", "Be true to me", and "Somewhere in Time".
Do you have a music video for any of the songs on your CD?
I have 12 music videos of the 18 songs I did.
All proceeds are going to charity from this CD, can you tell us how this came to be.
I choose to have all proceeds of the CD sales go to Lexiam Heart Foundation. My grandson Theo's heart condition has opened my eyes to CHD, congenital heart defects in babies and children.
You can purchase Mark's CD at the following sites:
Itunes
https://music.apple.com/us/album/songs-from-the-heart/1527968633?uo=4&app=itunes
Google Play
https://play.google.com/store/music/album/Mark_Padilla_Songs_from_the_Heart?id=Bhokzrjc5t32guriigxgeiradrq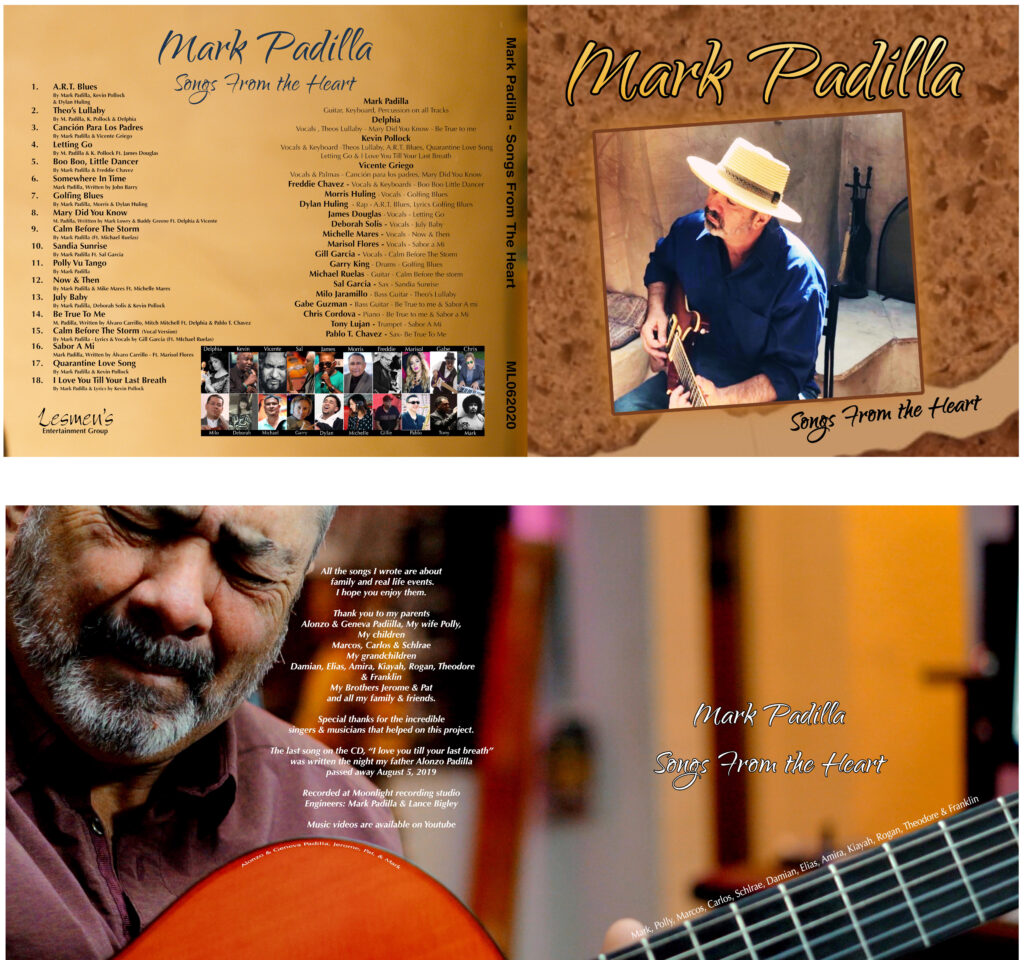 Contact for Mark Padilla
Email: [email protected]
Facebook: https://www.facebook.com/mark.padilla.77312
YouTube: https://www.youtube.com/playlist?list=PLHsDXfpDUjYcTM8LqDSAvtlylIcAaKSlY