Maestro, please share your story with us. Please tell us how you got to where you are today?
It all started one day on December 7, 1954 around 2:00 a.m., in Tequila, Jalisco, Mexico. As a child I began to get into the music scene, and played in the local Municipal Band, and in the church choir. My father influenced and motivated me musically when I was growing up, and I acquired a taste for the music that has represented Mexico in the world,,,,, the music of Mariachi ,,, At the age of 14 I was orphaned and at 16 I moved to Mexico City to continue my studies. I enrolled in the Escuela Libre de Música, and the Instituto de Estudios Superiores de Música del SUTM and was given the opportunity to work in recording, radio, TV Programs, and in productions and concerts with the best artists in Mexico, and went on their tours around the world, until I became an active member of the Latin Academy of recording.
What musical artists have you worked with in your career?
I have been a member of several Mariachi groups such as, El Mariachi America De Jesus Rodriguez De Hijar (who was my Godfather by baptism and also a native of Tequila Jalisco), Mariachi Oro y Plata De Pepe Chavez, Mexico De Pepe Villa, Silvestre Vargas Jr, Mexico 70, Arriba Juarez, Mariachi De Mi Tierra and I also had my own mariachi, El Mariachi Tequilense De Rigo Gomez. While working with these groups I was also writing musical arrangements, and performing in concerts and recordings with various Mexican singers, such as Maria De Lourdes, the Ambassador of the song, Lola Beltran, Luis Cobos, Aida Cuevas, Angeles Ochoa, Rosita Quintana, Vicente Fernandez, Las Jilguerillas, Lucha Villa, Jose Jose with mariachi, Miguel Aceves Mejia, Gerardo Reyes, Las Hermanas Padilla, El Piporro, Antonio Aguilar, and for about 30 years as director and musical arranger of Mariachi De Mi Tierra for Juan Gabriel. More recently, I have performed in some events with a very promising up and coming music artist who is from New Mexico, Santiago Alberto.
How did you meet Juan Gabriel?
Well, my brothers, Pepe Tequila (Vihuela), Carlos (Trumpet) and Gonzalo (Violin) already worked with him, and he knew about me, but it was through Mr. Jesus Salas, a very close friend of Alberto (Juan Gabriel), that he sent for me and so I began to help to write all the musical scripts for the registry of his works and later I worked on arrangements and productions for him.
What was it like working professionally with Juan Gabriel?
A great experience, since he was a great person, very simple, humble, with great nobility and I coincidentally had the same taste, appreciation and affection for our roots and musical traditions as he did for, Mariachi.
Can you share with us your most favorite memory you have of Juan Gabriel?
Yes ,,, there were many but, mainly having had the honor of his friendship, his music, and a handwritten note that I will gladly share with you.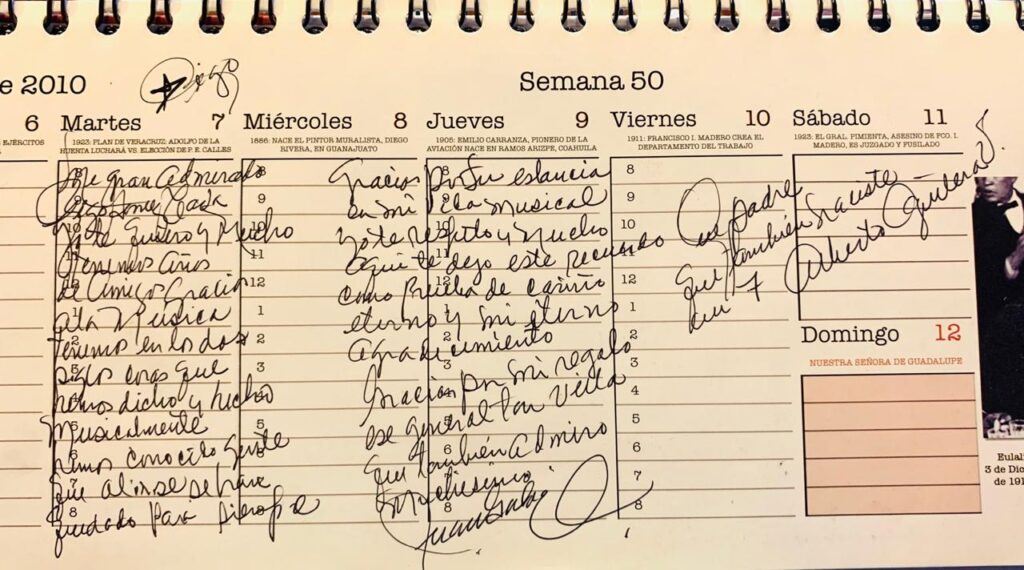 What recordings did you work on in Santa Fe, NM and what role did you play on these recordings?
There were many important musical projects that were born there. To mention a few, El Mexico Que Se Nos Fue, Las Tres Señoras, Los Tres Señores, and Juntos Otra Vez, all of which I wrote the musical arrangements and orchestration and also participated in the production.
What memories do you have of being in Santa Fe, New Mexico?
The beautiful adobe houses and the chili ristras. I felt at home there with the wonderful people and the beautiful scenery that gives you a feeling of freedom and tranquility, that are so special and different.
How was it to record in Santa Fe coming from Mexico?
It was inspiring, and filled my mind and soul with the deepest feelings of longing, nostalgia, and memories, that you once experienced and never will again, etc. and these deep feelings are reflected in what was written, and in the sounds of the music that was recorded there, and when you listen to it, you can feel it, perceive it and you can reflect on it,,,, it is magical.
What projects do you remember working in the Juan Gabriel de Santa Fe studio?
There were several but mainly El Mexico Que Se Nos Fue, Las tres Señoras and Juntos Otra Vez, starting with El Principio which was born there and on that subject, Juan Gabriel mainly, and myself, a humble servant, wanted to affectionately, humbly and respectfully honor all the singers, musicians, and groups, of Mariachi music in the world.
What albums do your musical arrangements include?
Porque Me Haces Llorar, Juntos Otra Vez, Las Tres Señoras, El Mexico Que Se Nos Fue and several others.
What is your favorite song or album that you arranged for Juan Gabriel?
How did you meet Santiago Alberto?
First I met his father, who was a good friend of Juan Gabriel. I remember one time in Pojoaque near Española, when he was a child, I would watch him play with Alberto's children and I would make them paper airplanes.
He is a very talented young man, an artist by his heritage and tradition who is very well prepared. Being with him, I feel fortunate to continue working with the new generations of our music.
Where do you see the future of mariachi music?
I am optimistic, and I want to think that everything will be fine, since Mariachi music is here to stay. The fact that there are so many young students who play it and like it so much, gives us that security of its permanence and validity forever in the new generations to come, So Be It.
Do you like where it is going?
I consider myself a traditionalist and conservative, but on the other hand I am aware that in everything, there is a natural evolution that occurs through time and according to the taste of the new generations, and Mariachi music is no exception and therefore that will certainly continue in a good direction.
What would you consider to be your greatest musical achievement?
It has been completed, it has been born but still has not come to light, but soon I will share it, I am working on that :).
Rigoberto Gomez Cova shares photos of his musical journey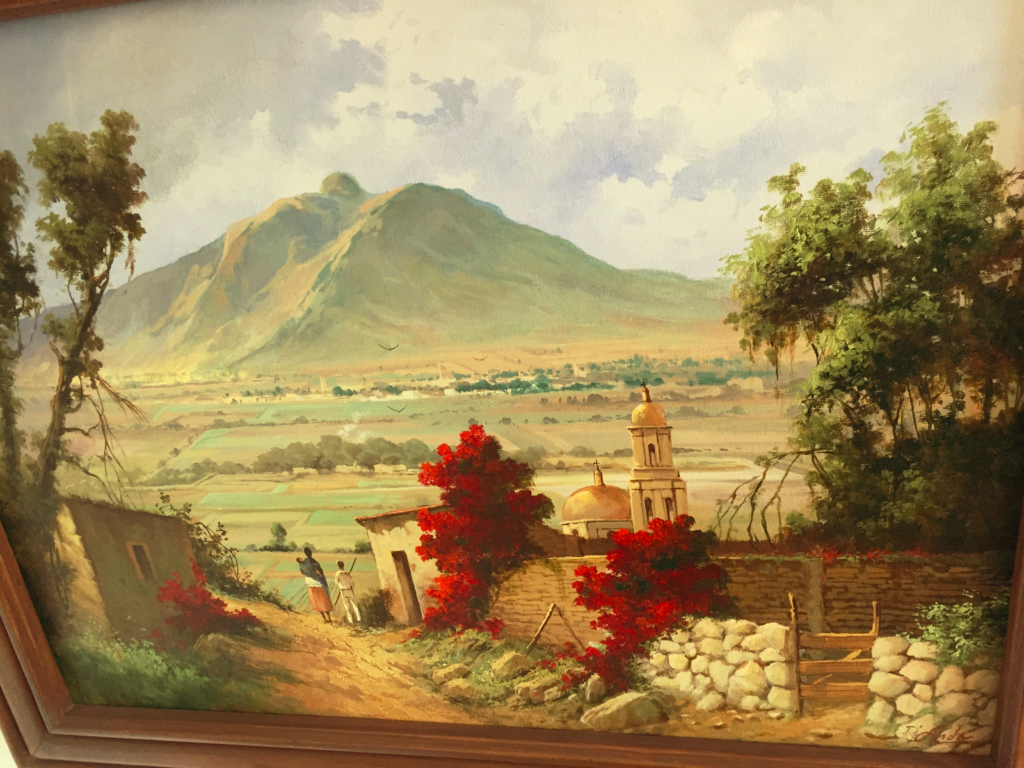 Watch Videos of Rigoberto Gomez Cova's Most Memorable Performances
Acompañando a Miguel Aceves Mejia – Programa -Noches Tapatias
Platícame Algo De Ti Gerardo Reyes -Arr Rigoberto Gomez Cova
No Te Culpes -Vicente Fernandez -Arr Rigoberto Gomez Cova
Homenaje a Lucha Villa Juan Gabriel
Homenaje a jose Alfredo -Juan Gabriel en Leon Guanajuato
Te Canto Con Mis Manos -Composicion y Arreglo -Rigoberto Gomez Cova Virgen de Guadalupe te canto con mis manos
Rigoberto Gomez Cova Contact Information
Instagram: https://www.instagram.com/rigomezcova/
Facebook: https://www.facebook.com/profile.php?id=100009588078713