Juan Gabriel is known as one of the most prolific artists to come out of Mexico. This incredible singer songwriter has had countless hits selling millions of albums around the world and has left a historical legacy as one of the greatest artists of all time. This August 28th is the four year anniversary of his passing. Juan Gabriel's music can be heard around the world at any given moment through all mediums that music can be heard whether it be radio stations, online streaming or live music covers. His music continues to live strong and continues to impact generations of fans from abuelitas to small children who can't help but want to dance and sing along whenever they hear his music.
Juan Gabriel and his love for Santa Fe
In the Spring of 1988, Juan Gabriel purchased a beautiful ranch in Nambe, NM, a few miles north of Santa Fe. He fell in love with Santa Fe and northern New Mexico because the people and the local architecture reminded him of the beauty found in the small towns of Mexico. He felt at home in New Mexico. This is the place where he wanted to raise his family. He loved nature and enjoyed walking around his ranch and enjoying the fresh mountain air. When he was away from his Nambe ranch, he was out touring taking his show to the most prestigious theaters, arenas and stadiums around the world.
In 1990, Juan Gabriel became the first pop artist to ever to perform at Mexico City's Palacio de Bellas Artes. Known as the Carnegie hall of Mexico, performances at the theater have always been fine arts performances such as ballet, symphony and musicals. Juan Gabriel's iconic performance at Palacio de Bellas Artes was one of the few times any artist out side of the fine arts has been invited to perform there. This historical concert featured a full symphony orchestra, mariachi ensemble, choir and his band together on stage as a super musical ensemble. He also featured the student choir and band from his school that takes care of children in Ciudad Juarez which was known as SEMJASE. This historical concert is one of the most beloved concerts of his career.
In 1994 he recorded the album Gracias por Esperar, produced by Gustavo Farias, followed by El Mexico Que Se Nos Fue in 1995, Juntos Otra Vez with Rocio Durcal in 1997, in which he featured the song, Que Bonito Es Santa Fe, "Qué bonito es Santa Fe, Qué maravillosa que es ,Con su hermosas plazas Y sus lindas casas, Pintadas todas café" a tribute to Santa Fe. He also produced and recorded Las Tres Senoras (a tribute to Lola Beltran, Alamlia Mendoza and Lucha Villa) featuring these icons of the golden era of mariachi music. This album also included cameo's by Miguel Aceves Mejia, Vicente Fernandez, Antonio Aguilar, Luis Aguilar, Las Hermanas Padilla, Las Jiguerillas, El Piporro, and La Prieta Linda. Much of the work done on these albums took place in his recording studio at his Santa Fe ranch.
Photos by Angel Espinoza
His studio was custom built for him by local music engineer Baird Banner in a western town within the ranch. The contrast of seeing the facade of an old western saloon out of an old western movie and walking inside into a state of the art recording studio that looked like the NASA control center was something only Juan Gabriel would have at his ranch. Next door to the recording studio in the western town included a saloon that was used for his private parties which always included his mariachi, music artists and celebrities such as Etta James, Lucha Villa, Amalia Mendoza and Monna Bell and many others among his family and friends.
During the time that Juan Gabriel lived in New Mexico, he also included tour world tour stops in New Mexico. He performed sold out shows in Albuquerque at Tingley Coliseum for Hispanic Heritage Night andthe Albuquerque Convention Center. The last time he performed in Albuquerque was at the Santa Ana Star Center in Rio Rancho. He was the inaugurating artist to open up the brand new arena for the very first concert held there on November 4th, 2006. His fans packed the new arena, one fan including New Mexico Governor, Bill Richardson among other dignitaries and government officials from the Santa Ana Pueblo. The show brought people together from all walks of life who enjoyed his music. Rather than choose to stay at an Albuquerque hotel after the concert, he simply went home to his ranch in Nambe away from the city.
Four years have now passed since Juan Gabriel left this Earth, and NM Universo would like to honor the memory of one of the world's greatest music artists who ever lived and will always have a special place in New Mexico. A place where he spent part of his life and gave the world the most beautiful gift of music with timeless songs and musical recordings while he was in our midst. Gracias por todo Juan Gabriel.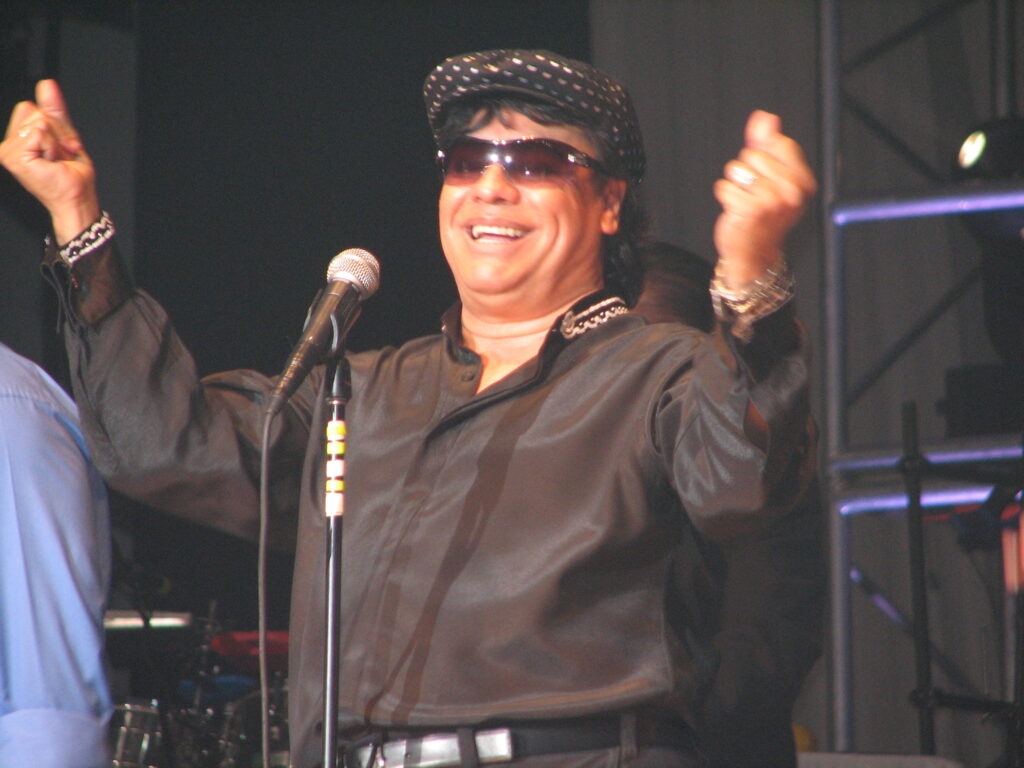 Photos by Angel Espinoza
Watch Juan Gabriel En El Palacio de Bellas Artes
Follow Juan Gabriel on Social Media
Instagram: https://www.instagram.com/soyjuangabriel_/
Facebook: https://www.facebook.com/JuanGabrielPorLosSiglos/
Official Website: http://www.juangabriel.com.mx/