On August 17, 2020, my dear friend Ray Casias left this Earth to be in the presence of Jesus. We who are left here on Earth have felt the sadness of not having such a wonderful soul among us any longer. My life was blessed by having him as a friend and mentor. I learned many things from Ray about the music business and more importantly, how to be a great human being and love your fellow man. He was a light that shone brightly and even more so when you had the great opportunity to be around him and share in his laughter and wonderful sense of humor, which was contagious and healed your soul.

This month, NM Universo pays a special tribute to Ray Casias on what would have been his 66th birthday, on October 6. I hope this article brings good memories to his family, friend and fans and all who crossed his path. I would like to thank Ray's family, Ann, Kezziah, Twila and Capriza, Wilma & Jeremy Schofield, his aunt Peggy Romero, James Espinoza, Casey Gallegos and KDCE Radio and Olivia Romero for sharing their memories, photos and music for this article. Here is Ray's story as it was shared at Ray's Celebration of Life, written by Ray's nephew, Jeremy Casias Schofield. With the blessing of his family, I am happy to share it with all of you at this time.

Angel Espinoza – NM Universo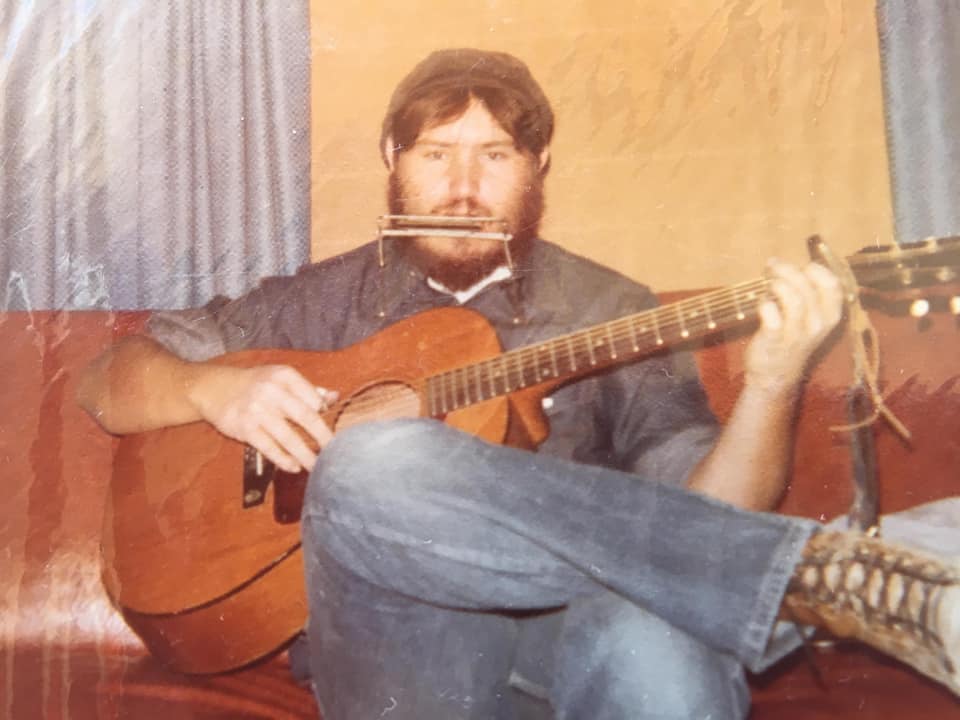 Raymond Andrew Casias was born on October 6, 1954 in Española, New Mexico to Ramon and Marcia Casias. He was raised in Chamita where his favorite pastimes were roaming the hills behind his house and playing his guitar.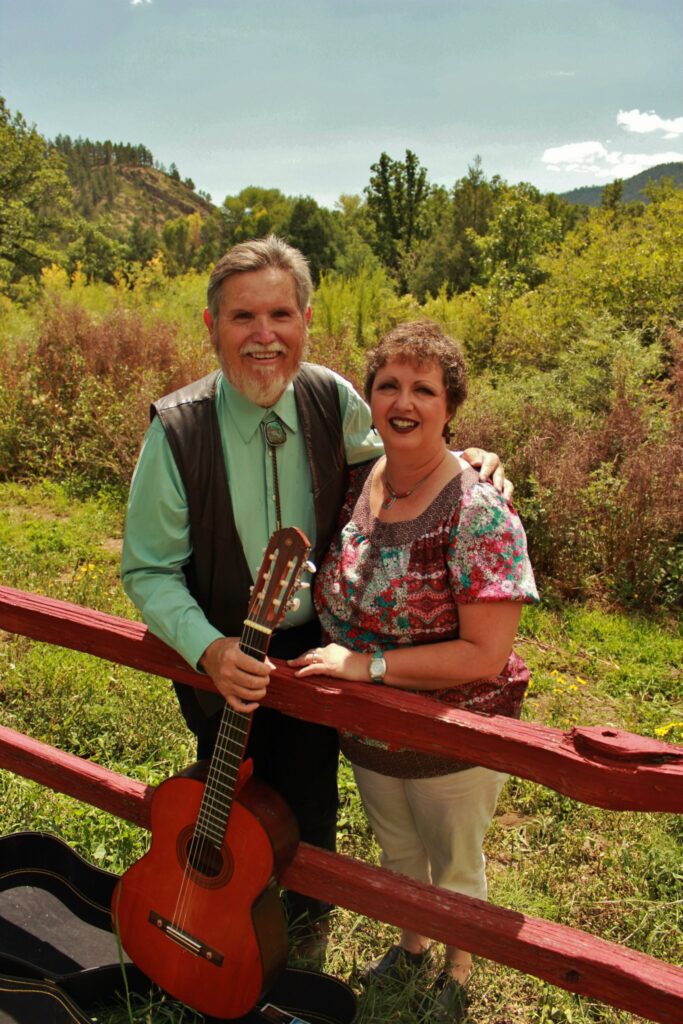 When Ray met Ann Teague, their love soon blossomed. Ray was married to his wife Ann for almost 41 years. Ray first caught Ann's attention during his time as a guest singer-songwriter for one of Ann's creative writing classes at Española High School. A classmate later told Ann that their eyes lit up when they saw each other for the first time. Ann and Ray crossed paths once again at a party on the night of Ann's graduation. Later that night, she wrote a poem for Ray titled "Sometimes People Have to Go Away to Change." She was able to pass along her poem to Ray through his cousin Elmer one day when he stopped to get a bite at Sonic. From then on, Ray would visit his roller-skating, car-hop girlfriend during and after her shifts at Sonic. Ann would often write love letters to Ray on the to-go menus while she was at work. After her shifts they would spend time in Ray's '55 Chevy lowrider pickup, "Hazel," talking about things of God, and sharing hopes and dreams for their future. After one week of dating they felt as though God had brought the two of them together. Two years later they were married. For nearly 41 years, their love for one another was constant and strong. Annie was a loving, loyal, and compassionate wife who cared for him with undying devotion. Her faithfulness and love for Ray shone through each time she looked at him or held him through times of uncertainty.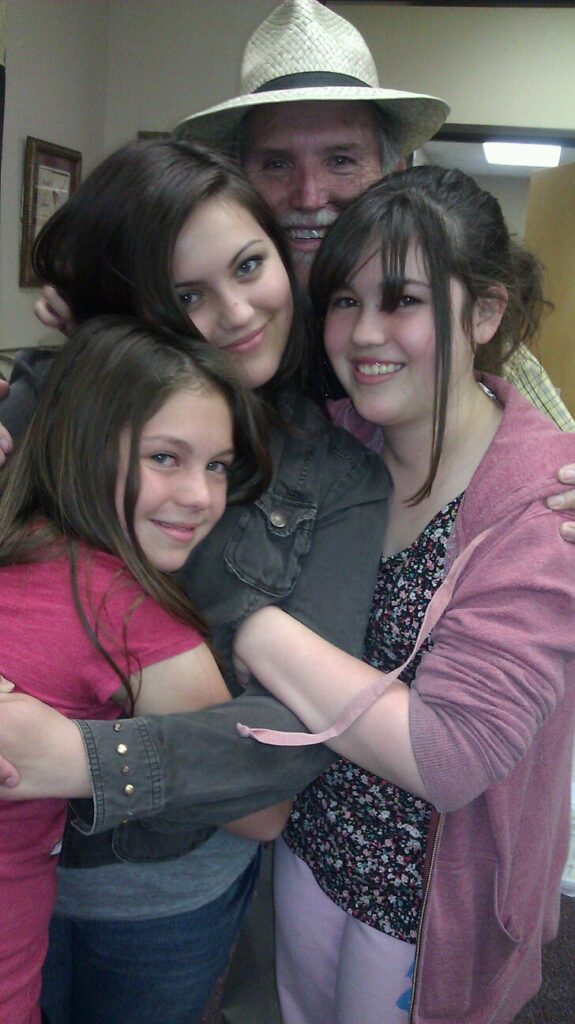 Ray always wanted three daughters, and after 14 ½ years of marriage, he and Ann were blessed with their three girls, Kezziah, Twila and Capriza, his sun, moon and stars. He was destined to be a father and devoted a lifetime to nurturing, loving, teaching, praising and bragging on his girls. When you mentioned his daughters, his love for them shone like a lighthouse on a dark night. Ray devoted every aspect of his life to his girls as he would often mention them on the radio, write silly songs for them and tell them "Cindy Stories" every single night. Ray was always at peace when he surrounded himself with family, which only grew with time, later welcoming son-in-law, Allen Green and Cristian Madrid as his own sons, sharing his passions with each of them and creating a lasting and unique bond.
His love only grew with the birth of his grandsons. His first grandson, Casian Andrew Green became his sidekick as they shared hours watching Ray and Ann's cuckoo clock and YouTube videos about race cars, monster trucks, mud bogs, oldies, music, drag racing, and of course, cuckoo clock documentaries. They both loved trucks, especially old ones, just like Ray's Hazel. He and Casian were inseparable; Ray in his powerchair and Casian always along for the ride. When his youngest grandson, Kaiden Malachi (Kai) Green was born, his love flourished and he would beam with joy and delight. He loved spending time with little Kai; holding him, loving him and making silly sound effects that always made Kai laugh. It was always a beautiful sight to see them smiling at one another with their identical dimples and radiant smiles. When those two little boys were born, his world was complete, and someone only had to mention their names for a smile to reach his face and sparkling blue eyes.
Ray grew up with two loving sisters, Wilma Casias-Schofield and June Casias Baker, as well as his younger brother, Shane Casias whom he adored and who in return loved him fiercely. His sister June was Ray's loving, caring, "would do anything for him sister." Wilma always used to tease Ray that she didn't have his talent but would always be his biggest fan. She felt that when he was born the heavens opened and the sun shone for the first time. She was always so proud of her baby brother. As children June often enjoyed teasing Ray, telling him "I won't be your friend anymore unless you do the dishes or let me paint your nails." Ray loved June so much and wanted to be her friend so badly that he would often go along with her demands, which must have worked since they were as close as two siblings could be. Shane, his younger, equally talented baby brother, whom Ray loved and mentored, shared his passion of music and art with him. When Shane was young, Ray nurtured and inspired him to the point that he wanted to be just like Ray, whether it was through playing the guitar, drawing, or exploring other various forms of creativity
Other than his family, his passions were his love for ministry, music, and creativity and his devotion and faith in Jesus Christ. From the time he picked up his first guitar (driving his sisters crazy playing Ventures songs over and over again until he perfected them), music became his first love. He was a major Bob Dylan fan and no matter how often his sister Wilma (Willie) teased him that Dylan could sure write, but "man, the guy can't sing," nothing would change his mind about his musical hero. He even learned to play the harmonica to further emulate Dylan. No voice, however, could compare to Ray's voice. When he sang, it was as though the entire world would stop to listen to each and every melodic word, spoken from his heart. All who heard him became entranced by the genuine emotion of the moment.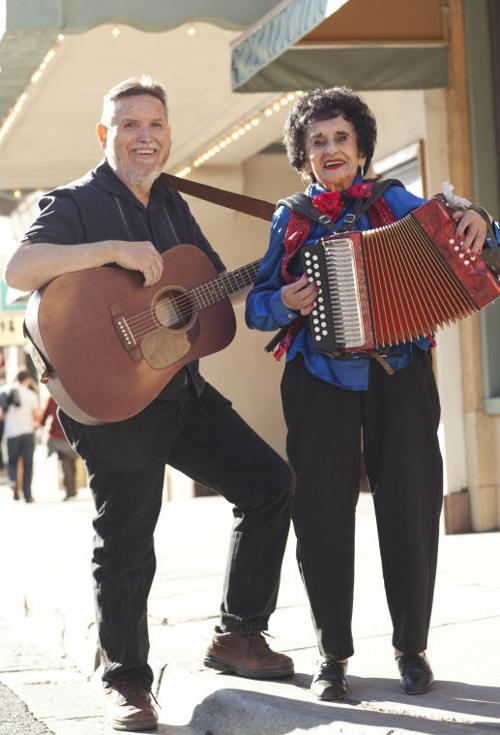 Ray was no ordinary man. He took on many roles throughout the 65 years that he graced this earth. He was a program director, disc jockey , MC, singer, songwriter, performer, musician, artist, storyteller, missionary, pastor, uncle, cousin, husband, father and friend. He was a mentor and partner to many musicians through Northern New Mexico. I was privileged to work with him and Annie in a gospel group named Walk on Water in the 1980s. He also dedicated several years of his life to "Trio Jalapeno" as a performer with Paul "Pulita" Martinez, Antonia "Tonita" Apodaca, and Bernardo Jaramillo; sharing his talent as a guitarist and singer with all of New Mexico and beyond. As the Program Director and DJ at KDCE radio station, Ray was the voice of the Española Valley and reached hundreds of friends and fans within the community for many years. Ray was an artist who played the guitar, banjo, harmonica and any other instrument that he could get his hands on. He wrote his own lyrics for over 200 songs, and continually amazed everyone with his many talents. Ray also had interests in photography, scratchboard art, ink drawings, ceramics and painting.
Ray served as the pastor of Church of The Living God in Arroyo Seco, NM for 12 years and engaged in many different ministries before that time. He always shared his love and devotion to God with all those who would listen. The difference between Ray and others, was that he lived his faith and never wavered in his belief, always encouraging us to "only believe."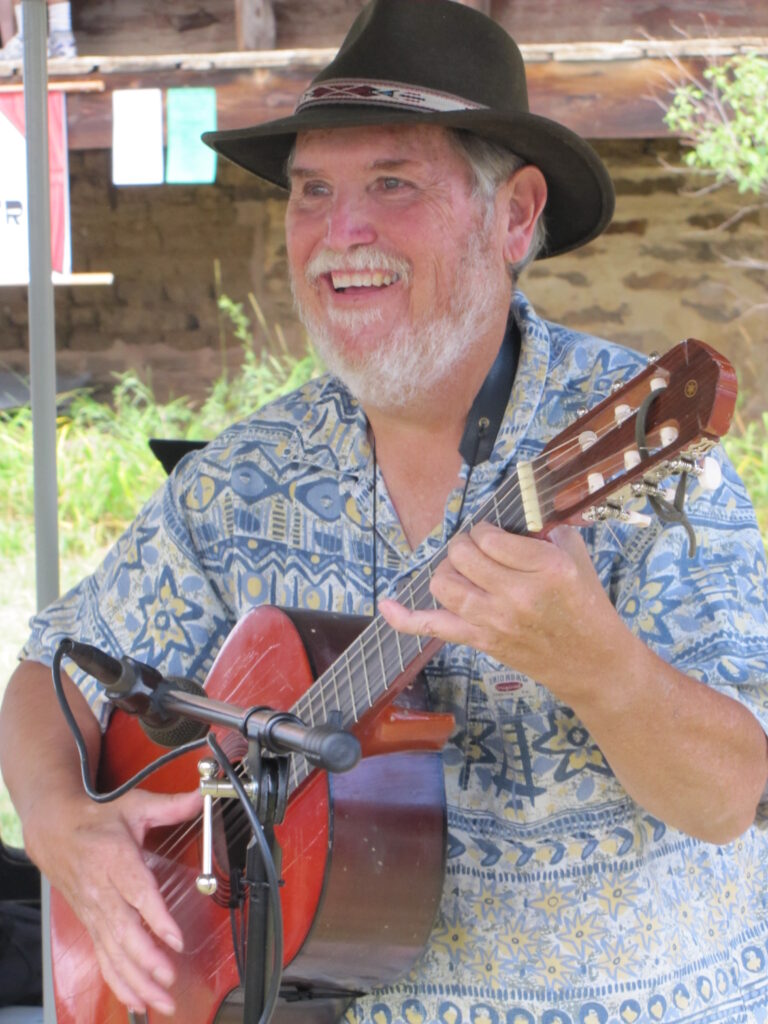 You will not meet anyone who was not drawn to Ray. You will not meet anyone who has a bad thing to say about Ray. He radiated love, kindness and joy. When he became ill and his singing and speaking voice were taken from him, when he could no longer write or play a guitar, others would have fallen into deep despair, but Ray showed a bravery not many have and he strove to rise above the pain and uncertainty. Although he had moments of sadness, he would soon shake it off, and gift us with a smile or a funny story, constantly showing us his deep and abiding faith while continuing to believe that God could heal him. Even through the difficult days, he continued to shower those around him with love, wit, compassion and wisdom, always reminding us to "keep on keeping on," because "God is good all the time." Although he is no longer with us, we believe that he is now whole, hands and fingers straight and strong, with legs that can carry him for miles with no pain. We should envision him with a guitar strapped across his chest, arms around his mother, while basking in God's love and presence. Our hearts may be broken, with a longing to have him here with us, but we can try and heal our grief and pain with the knowledge that he is in God's presence and one day, we will be with him again. Though it is hard to imagine living in a world in which we will never again hear him laugh, sing, or play, we can only find comfort in the fact that all those things that had been taken from him over the years are now returned to him, as he steps into that sublime existence beyond ours. May our eventual reunion be as sweet as our parting is painful.
Ray's Aunt Peggy Romero Shares a Special Memory of Ray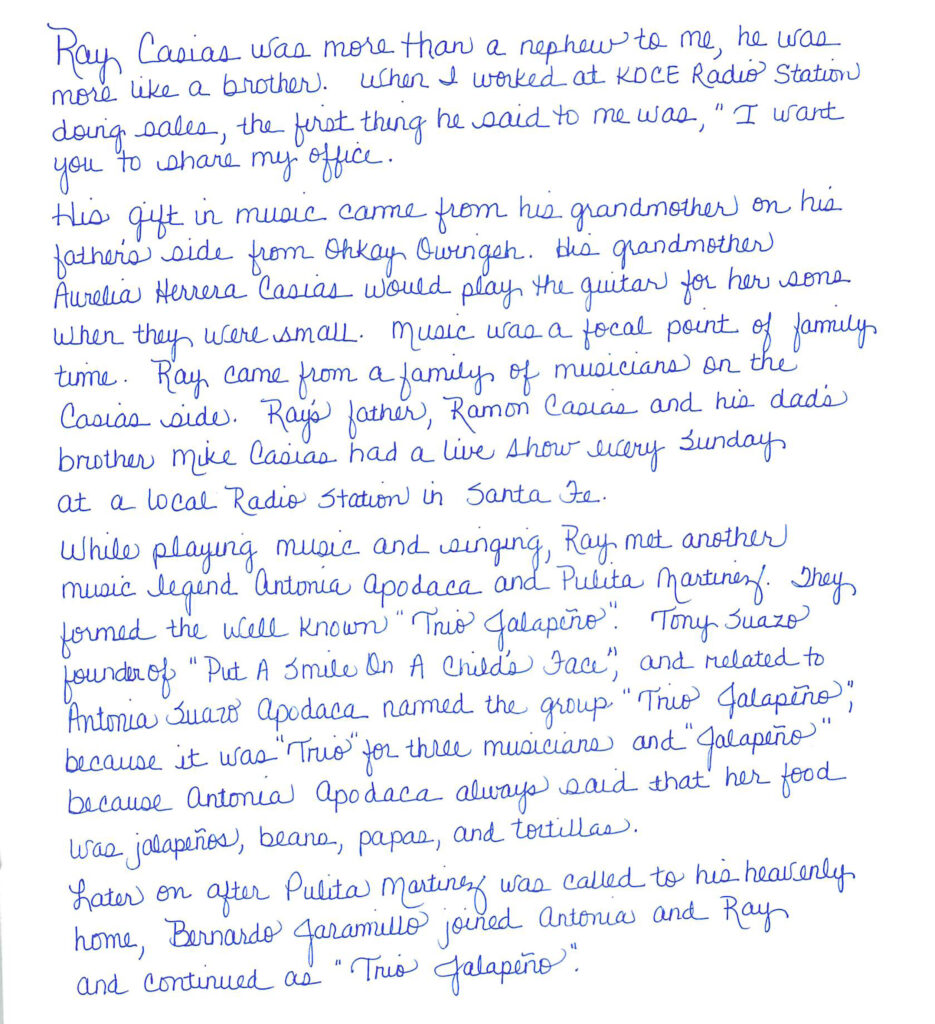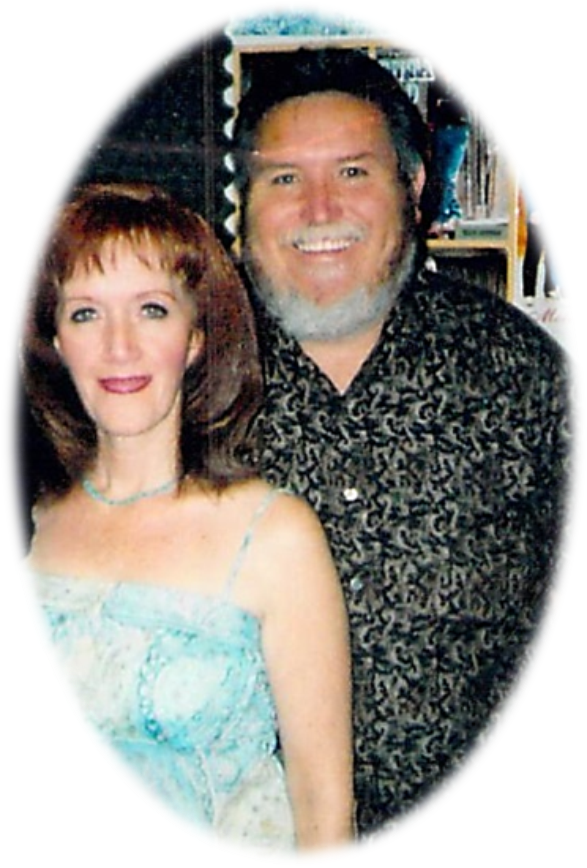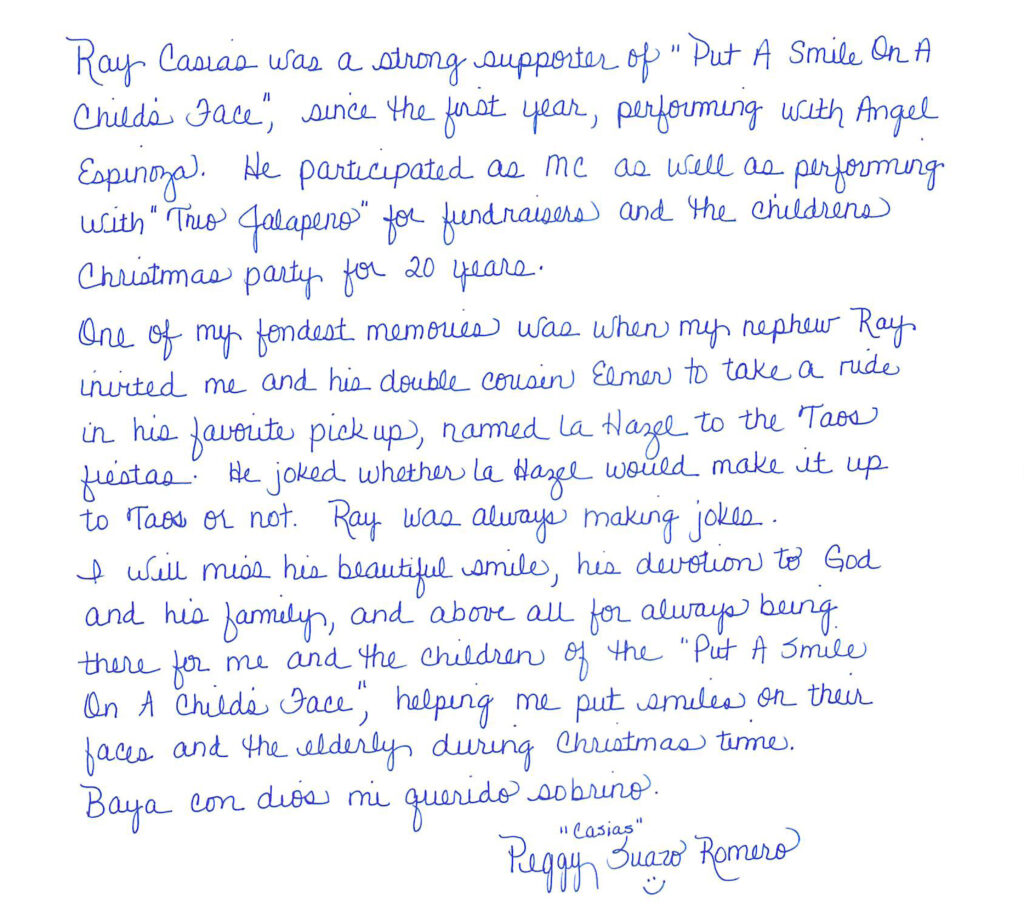 Ray Casias Videos on YouTube
Ray Casias Songs
Ray Casias Photo Gallery